After completing a relevant prior degree or the Certificate in Applied Sports Nutrition you are eligible to register with the Sports Nutrition Association as an Accredited Sports Nutritionist. You then also become eligible to insure yourself for sports nutrition programming, meal plans, and supplement program for your clients.


This is the only non-dietetic pathway to become eligible to legitimately access insurance to cover those activities, please refer to the Body's latest Insurance and Registration Position Statement for any more information. Registration as a Sports Nutritionist is US$399/year. This can be paid upfront or on a monthly payment plan.
Continued education is extremely important however there are no extra CEC or CEU programs that we require our professional members to complete. It is our belief that with our members continuing education is a mutual responsibility, so to keep you up to date with the content and actually receive something for your registration fees, we invest in the future of our members. Providing course refreshers to our members every 6-months, and CPD annually. For members who deregister, reinstatement of registration is available and the reinstatement process is assessed on a case by case process, with fees ranging from US$599 to a full re-enrolment in the certificate depending on the period of time they were unregistered.
We recommend partnering with Arthur J Gallagher as they are the only insurer who works with us on CPD audit compliance, a high priority for insurance being valid.
The Sports Nutrition Association uses Arthur J Gallagher insurers for cover of its members, depending on the scope of their business activities. Bodybuilding, powerlifting, and strength & conditioning are all included activities in the insurance. All insurance is assessed and awarded individually on a case by case instance, so no fixed quotes can be provided. The approximate beginning price for all Accredited Sports Nutritionists and PTs/Coaches (covering all training scope as well) starts around the A$280/year mark for nutrition only and from A$450/year for comprehensive training and nutrition policies.
Educational Providers, Programs, & Pathway Accreditation Validity within Australia, USA, UK and NZ.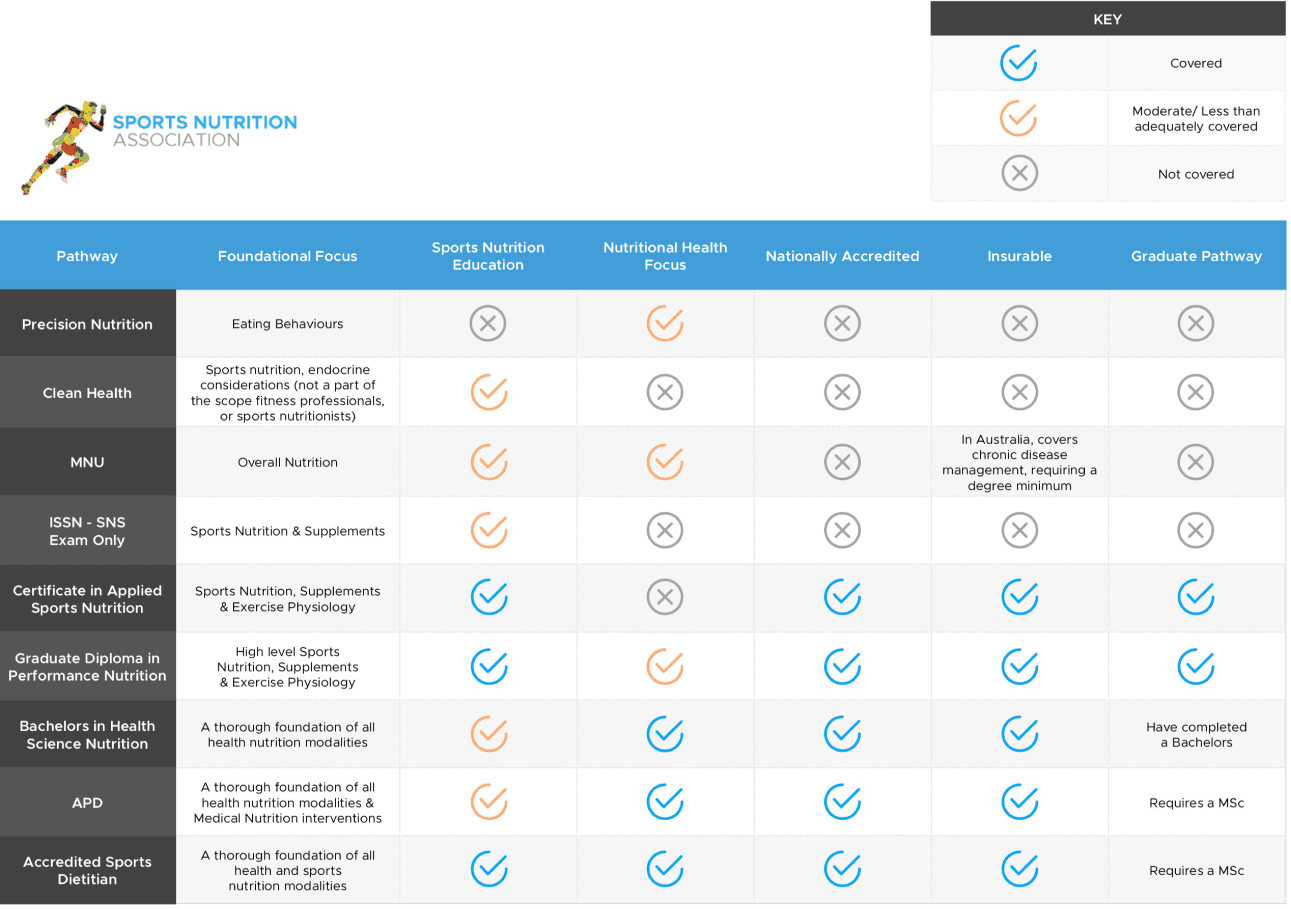 Accreditation Eligibility
Frequently Asked Questions